About Navigon Financial Group, Inc.
Our Story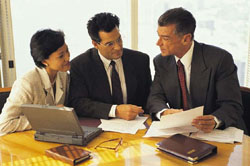 Navigon Financial Group has a story not many other firms can share – we have been in existence for over 100 years. This is a special story of people who over the years, have come together with a shared commitment, passion and dedication to helping others realize the protection that having a Financial Plan in place can offer.
Our Philosophy
At Navigon Financial Group, our philosophy is one of financial diversity. We believe that independence cannot be achieved solely on one's ability to "earn a living." It is with this belief in mind, as an organization, we focus on holistic financial planning that help our clients to explore diverse opportunities to achieve more than just "earning a living".
Our Mission
As a professional financial services firm, we specialize in helping individuals and businesses meet their unique financial objectives through investment strategies, insurance needs and financial counseling. We pride ourselves on maintaining long-term, lasting relationships. Over the years we've worked with thousands of individuals, professionals and business owners and have earned a reputation for thoroughness and objectivity. We require our associates to maintain high ethical standards as they assist clients in achieving their financial goals.
Contact

Navigon Financial Group, Inc.
Office: (800) 873-7637
600 Dresher Rd.
Horsham, PA 19044, USA
http://www.htk.com